Nationwide Virtual Friends Quiz Is Coming To The UK On Friday
Nationwide Virtual Friends Quiz Is Coming To The UK On Friday
Warner Bros. Television
Friends is getting more screen-time than ever before with all this self-isolation and it's time to put that binging to use: a virtual quiz is on its way. 
Do you know your Chip Matthews from your Roy Gublik? Can you articulate Chandler's full job title? Do you live and breathe Unagi?
You better sharpen your (figurative) pencils because this Friday, March 27, at 7.30pm, fans of the iconic sitcom can come together for a quiz right from the comfort of your own sofa.
Friends Reunion Special Thumbnail 2
Warner Bros.
Eventures, a UK-based events planner, has just the thing: if you click here, you'll be able to sign up to the F.R.I.E.N.D.S Virtual Quiz on Facebook.
The company wrote on the page:
Oh. My. God. We are on lockdown & times like these require us all to stick together and have fun and we want to help!

This is the quiz that's guaranteed to find the biggest Friends fan. The One With The Virtual Quiz is an evening of getting more competitive than Ross and Monica at Thanksgiving. Avoid being BAMBOOZLED and you could be ending the night with your name on the Geller cup!
Unsurprisingly, quite a few people are game – to be more precise, 25,000 people have confirmed their attendance with a further 118,000 showing interest in the quiz. The organisers have been 'overwhelmed' with the anticipation around the quiz, and promise to release more details about the event soon.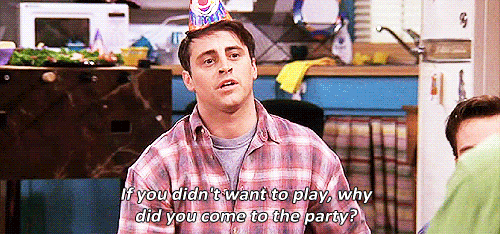 Friends TV Gif
Warner Bros. Television
The organisers added: 'Thank you for showing such interest in our Friends quiz. We promise to take your mind off current happenings and put a smile on your faces on Friday evening!'
There's literally hundreds of pre-made Friends quizzes online – if you want that Geller cup, you'd best start revising.
Credits
Eventures/Facebook