Most gamers would likely agree that how a game sounds is as – if not sometimes more – important than how a game looks.
Naturally then, you'll want a headset that can get the best possible sound for your money, and it's no secret that the folk at Turtle Beach have been churning out dependable headsets for years.
Today, we'll be looking at the Turtle Beach Stealth 600 Wireless Surround Sound Gaming Headset, and it's premium cousin (the 700), to see whether they're worth your time and hard earned cash.
It should come as no surprise that with the 600, Turtle Beach has once again found a middle ground, combining great value with quality. The 600 is a mid-range headset for PS4 and Xbox One (I reviewed both the 600 and 700 for PS4).
A strong selling point straight out of the gate is that both headsets are wireless, which means you aren't f*cking around with wires, and you can run to the fridge for a snack in between games of PUBG and not miss a single thing. Terrific.
The cans on the 600 are highly adjustable, and with foam padding on the top and a mesh fabric covering the earcups, you should be able to keep them on comfortably for those marathon gaming sessions.
I mean, they fit my head like a dream, and I've got a super weird shaped head, so you normies should be fine.
The left earcup houses a mic that can be snapped in and out, and muting yourself is as easy as pulling the mic up. No faffing about with toggles or switches here.
From a design/comfort standpoint, it has to be said that the 700 certainly feels a lot sturdier and is less scratchy around the ears after long periods of play, but both are perfectly comfortable and hardly worlds apart.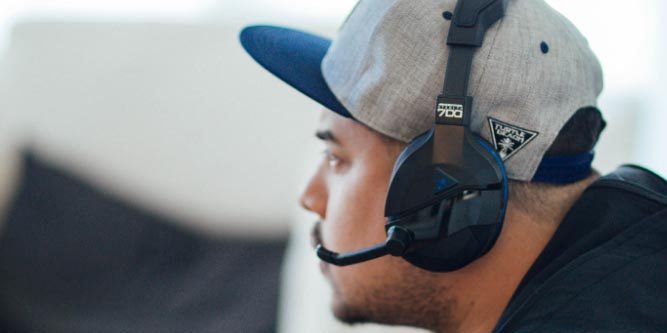 So we've established that both headsets feel great on your noggin, but unless you're buying them solely to make some kind of weird fashion statement, you want to know how they actually sound, right?
The 600 comes packing a variety of features that the discerning gamer can tweak to their liking, but even the standard settings offer a striking balance, making background music clear and immersive, while also bringing subtle elements such as footsteps or the rustle of grass to the forefront.
For a competitive edge, the 600 delivers a "superhuman hearing feature" which lets your ears hone in on an enemy reloading, or a foe sneaking around behind you.
The 700 offers the same crisp sound quality and superhuman option, as well as a dynamic chat boost feature that helps keep your teammates clear, but pushes gunfire and the screams of enemies to the back, in case you've had a long day and don't fancy tinnitus.
Active noise cancellation is another handy feature of the 700. I've used a few headsets that boast of noise cancellation, and I have to say that the 700 has delivered some of the most striking yet – the outside world really will fade away.
For competitive edge, comfort, sound quality, and affordability the 600 really is one of the best headsets on the market right now. For £90, I can only wholeheartedly recommend these bad boys – as a treat for yourself or as a Christmas present for the gamer in your life.
So is the 700, billed as the "premium" experience, really worth the extra cash? At £129, it's still relatively affordable – but the only feature you're really gonna miss is the noise cancellation, while the extra heft/sturdiness of the thing do go some way towards justifying the increased price.
All in all then, both headsets are fantastic. Reasonably priced for what they offer, and a joy to use. Turtle Beach has done it again.
Ewan Moore is a journalist at UNILAD Gaming who still quite hasn't gotten out of his mid 00's emo phase. After graduating from the University of Portsmouth in 2015 with a BA in Journalism & Media Studies (thanks for asking), he went on to do some freelance words for various places, including Kotaku, Den of Geek, and TheSixthAxis, before landing a full time gig at UNILAD in 2016.