Dover Lorry Queue So Long It Can Be Seen From Space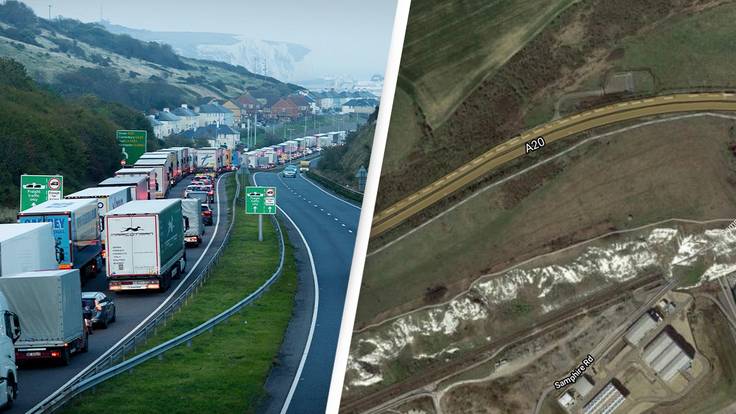 Tailbacks of lorries queuing at the Port of Dover are so long they can be seen from space, as new satellite images reveal enormous queues stretching as far as nine miles.
The backlog has been blamed on new customs checks introduced following the UK's exit from the European Union.
Thanks to satellite imagery captured within the last year, long lines of lorries can be seen queuing along the A20 between Dover and Folkestone, making clear the scale of the delays that have reportedly become routine over the past year following extra controls implemented as a result of Brexit.
Over recent days, locals and passers-by have shared footage of the tailbacks amid concerns that further checks slated to come into force in 2022 cause more chaos on roads throughout Kent.
One driver claimed that checks were now taking up to 20 minutes per vehicle, leading him to push back deliveries after being caught in queues. 'It's entirely Brexit – you can't blame it on anything else but Brexit,' he told The Independent.
On social media, anti-Brexit campaigners have used the queues as an example of what they claim were false promises made by the Leave campaign, and subsequently the Conservative government. '30km of lorry queues at Calais yesterday, the same at Dover. Seamless trade anyone?' one person wrote.
'It is absolute carnage,' one person purporting to be a Dover customs worker tweeted. 'The sheer volume of red tape is baffling and the confusion grows everyday due to contradictory guidance.'
From Folkestone to Dover again today!! The queue gets longer, that's with the channel like a mill pond , so no delays . Except of course the ones that Brexit has created! pic.twitter.com/SU8afiX6oZ

— Catty DG (@MrDavidCatt1) January 19, 2022
Amid ongoing delays, the Department for Transport has introduced a temporary traffic scheme – the Travel Access Protocol – in the Dover area to reduce traffic build-ups, with measures including a 40mph speed limit for vehicles approaching the port and the use of the A20 as an overflow lorry park.
Earlier this month, Port of Dover CEO Doug Bannister said that the government needed to be 'better prepared' for the possibility of tailbacks, citing extra Covid checks as adding to the longer processing times.
In an interview with the BBC, he called for port workers and ship crews to be included in the list of key workers offered daily lateral flow tests, praising their efforts to '[maintain] the operations and the critical flow of goods into the nation' throughout the pandemic.