Spike TV
Be prepared to be scared because the latest horrifying trailer for The Mist has hit the web.
Based on the 1980 Stephen King story of the same name The Mist is a ten-part TV series which will tell the story of several citizens in Bridgton, Maine,who find their little town enveloped in a strange otherworldly mist.
The people of Bridgton have more to worry about than some bad weather though as there are some rather bad tempered Lovecraftian beasts lurking in the fog and they're hungry.
Spike TV
The show will follow the poor victims of the mist as they try their hardest to survive the cosmic horror thats engulfed their town. So you know your typical terrifying Stephen King stuff.
Don't take our word for it though check out the trailer here:
[ooyala code="M0dTNqYjE6Eol8ovdsN2NnU_02cEKfKg" player_id="5df2ff5a35d24237905833bd032cd5d8″ auto="true" width="1280″ height="720″ pcode="twa2oyOnjiGwU8-cvdRQbrVTiR2l"]
Pretty scary right, it gets the hair on the back of my neck standing at least!
Of course many people will probably remember the 2007 Mist film from Frank Darabont but showrunner Christian Torpe has said they'll be a bit different with the action not confined to a single super market.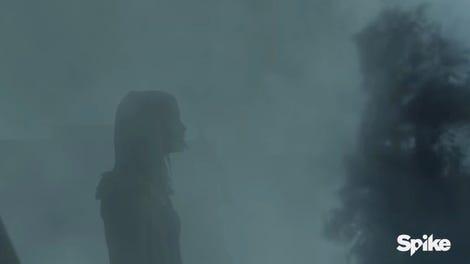 Spike TV
Torpe said: 
"It's like a weird cousin to the [2007] movie or to the original story, with clear points of inspiration and plot points that are all the same and yet it's sort of its own beast.
Alyssa Sutherland, Morgan Spector, Gus Birney, Danica Curcic and Frances Conroy star and the show premieres in the U.S. on Spike on June 22 .
Unfortunately there's no UK release date yet but we're sure it'll get picked up soon enough.
---