Surgeon Facing Legal Action After Trying To Sell Bataclan Attack Survivor's X-Ray As NFT
A surgeon in France is facing legal action after trying to sell an X-ray of a patient as a non-fungible token (NFT).
Emmanuel Masmejean, a senior French doctor based in southwest Paris, attempted to sell the X-ray, which belonged to someone who was shot during the November 2015 terrorist attacks in the city.
Although the Bataclan music hall victim can't be identified from the still, the X-ray showed their forearm with a bullet still lodged inside.
The Open Sea listing, which the doctor wrote beside the X-ray, detailed private information of his patient, including her gender, her relationship status at the time, and where the incident took place. It also noted her diagnosis following the shooting.
Masmejean told the Washington Examiner that his decision to attempt to sell the image was 'an error', and that he regrets not asking the patient for permission.
Martin Hirsch, the head of Paris's public hospitals, said on Twitter of the incident, 'This act is contrary to sound professional practice, puts medical secrecy in danger, and goes against the values of [Paris hospitals] and public service.'
He also told France's Mediapart that the surgeon would be looking at both criminal and professional charges due to his 'disgraceful' and 'scandalous' behaviour.
The patient's lawyer said in a statement, 'This doctor, not content with breaking the duty of medical secrecy towards this patient, thought it would be a good idea to describe the private life of this young woman, making her perfectly identifiable.'
The woman has since requested to remain anonymous.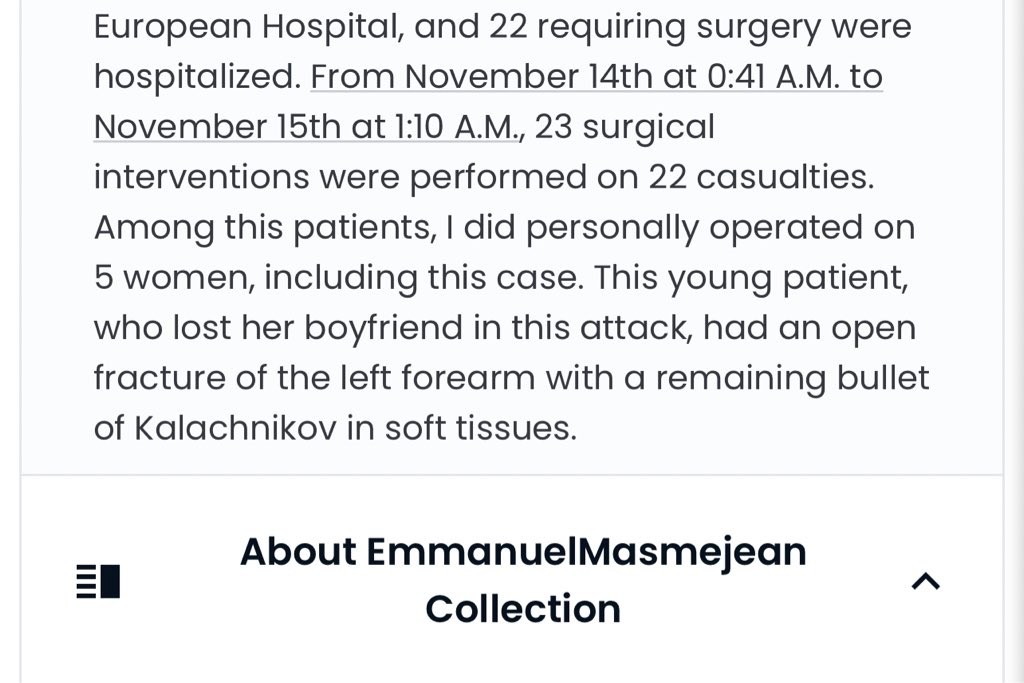 Over the past year, NFTs have grown in popularity, and some have been selling for millions of dollars in the cryptocurrency market.
The majority of NFTs are images or objects that are uniquely coded, allowing the purchaser to own their own unique copy of the still.
The Bataclan shooting was one of many coordinated Islamic terrorist attacks in Paris. The terrorists took the lives of 130 people that night, including 90 people who attended the Eagles of Death Metal concert at the Bataclan theatre.
The Islamic State group assumed responsibility for the attacks, stating they were a response to French airstrikes against ISIS targets in Syria.
If you have experienced a bereavement and would like to speak with someone in confidence contact Cruse Bereavement Care via their national helpline on 0808 808 1677