A British vet has taken to social media to reveal the lesser-known issues with certain animals that are known for being particularly 'cute'.
It doesn't take long to come across pictures or videos of big-eyed dogs and fluffy kittens while scrolling through social media, with many people's feeds packed to the brim with unusual, adorable or funny-looking animals.
The content can undoubtedly bring a lot of joy, but veterinarian Cat is using her online platform to warn that we shouldn't just focus on what an animal looks like, but also what those looks can mean.
Check out one example below:
Cat has released a series of videos on her TikTok page titled 'Pets That People Think Are Cute But Are Not!', one of which is focused on 'The Scottish Fold Cat'. You may have come across such a creature during your scrolls, as with little ears folded against its head, the cat looks, on the surface, quite adorable.
However, Cat has explained that the folded ears are the result of 'weak, rubbish cartilage', which is also found in 'every single joint' of the cat's body. The weak cartilage causes arthritis, an 'incredibly painful debilitating condition that we are basically breeding deliberately into these cats just because we think their little ears look cute.'
The vet agreed that the cats look cute, but stressed that is 'not a good enough excuse to breed a cat that basically spends most of its life totally crippled and ends up being euthanised really really early because it cannot even walk'.
She added: 'This is not cute, this is cruel'.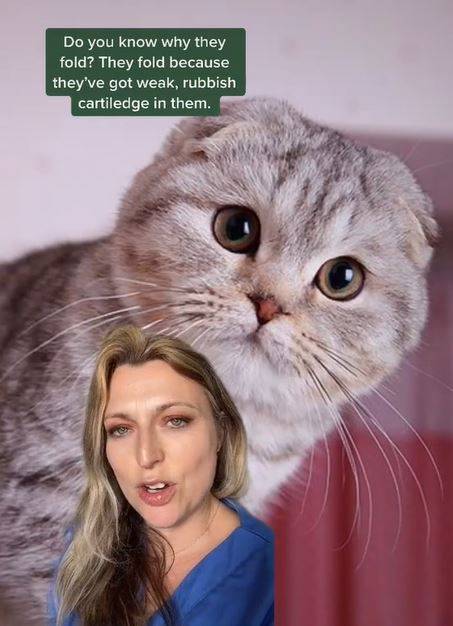 Cat's claims are backed by International Cat Care, which describes the cat's characteristic ears as the 'most obvious outward manifestation' of the genetic mutation which affects its cartilage, adding: 'Unfortunately, the genetic defect that causes abnormality of the ear cartilage also causes severe abnormalities of the cartilage of bones... These bone and cartilage abnormalities lead to severe and painful arthritis.'
Other examples of 'cute' animals Cat has presented on her TikTok page include the French Bulldog, citing a study which showed the health of the dogs are so bad that they can no longer be considered 'normal dogs'; the 'Munchkin Cat', which are being bred with a 'debilitating' genetic mutation causing short legs; and the Pekingese dog which is vulnerable to overheating.
The vet has been praised for sharing the eye-opening information online, with one person commenting: 'thank you for speaking up for the animals.'