Woman Shares 'Most Embarrassing Moment' Of Her Life To Give People Something To Laugh About
As many people take the wise decision to stay at home for the time being, one woman has blessed us with the 'most embarrassing moment' of her life to keep us entertained. 
For many, the best thing about going on holiday abroad is grabbing hold of new experiences, trying something bold and exciting. It could be skinny dipping, climbing a mountain, scuba diving or taking a stroll along a nude beach (if that's your kind of thing).
For this woman, a trip to a swimming pool and spa in Germany left her with the sort of life-altering ordeal that belongs in people's most traumatic (and hilarious) nightmares.
Anbara Salam, author of Things Bright & Beautiful and Belladonna, took to Twitter to share a full rundown of how a relaxing day trip quickly went haywire. 'As a public service in these stressful times I'd like to offer, as a palate cleanser, the most embarrassing moment of my life,' she wrote.
Once upon a time, 10 years ago, Anbara visited a German spa with her ex-boyfriend. The swimming pool had rules and restrictions – i.e. you had to wear a swimsuit or the equivalent. But the sauna was different – you had to be nude.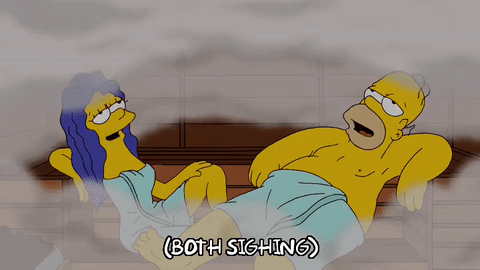 The Simpsons Sauna Gif
20th Television
It was all going to plan at first. They had agreed to meet in the café, so Anbara got undressed, grabbed 'a lil towel' and ventured to the sauna. However, the universe had far different plans.
There are two unmarked doors at the end of a corridor, I take a guess and go through the one on the left. It's not the door to the sauna. It's the fire escape. The door locks behind me. I am trapped inside the fire escape, in the nip.

It's two storeys, dark, grim, noisy because of huge fans. I bang on the fire escape door until I actually hurt myself. Nothing. Yell for help. Nothing. Fully crying, I run downstairs, trying to work out which part of me I should cover with the lil towel – my face? A single buttock?
She continued to bang on the door and shout to no avail. Then, 'jackpot' – Anbara found an unlocked door on the ground floor. Alas, this was not a portal to an emporium of clothing, gowns or decent shelter – it was 'a terrifying machine room with massive fans and pumps and electrocution symbols on everything'.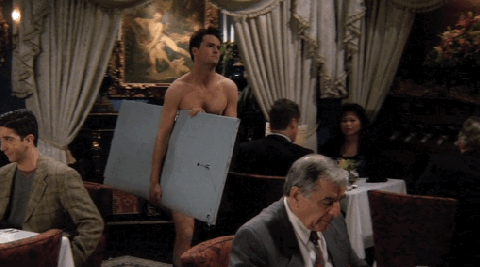 Friends Chandler Bing
Warner Bros.
It only gets worse – she added:
Friends, there's nothing quite like running, naked and crying, around an industrial machine room. I spot a service lift. Out of sheer panic, I run into the lift, covering each boob in turn, mashing the buttons.

I go up and down in the lift a few times. There's a security camera in the lift. Torn between 'I don't want anyone to see this' and 'I rlly rlly want someone to see this and rescue me' I move the lil towel between strategic areas while sobbing and waving at the camera.

After a few rides up and down, there's a German loudspeaker announcement, and I just *know* it's about me. Like 'the naked girl in the fire escape lift please stop mashing the buttons' or whatever, but I can't understand it, so just cry louder and gesture at the camera. [sic]
When the lift doors finally opened, Anbara was faced with not just a general spa employee, but 'the most dressed man to ever be wearing clothes' – and he didn't bring a towel. Instead, he gestured her to follow him, as she flung around a washcloth in a desperate bid to cover parts of her body.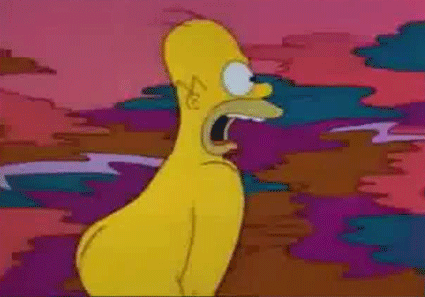 The Simpsons Gif
20th Television
Just when you thought things were going to get better, Anbara wrote: 
Apparently the only way out of the fire escape is to fully LEAVE THE BUILDING. So I'm cowering on the edge of the pavement, hysterical, & he points round the corner. The only way back in is along the street, THROUGH RECEPTION, where ppl are queuing out the building.

I now have an out of body experience. A shame black out. I have reached my max. I go fully through embarrassment and out the other side. Time slows down. I can hear the music of the spheres. I stop crying, drop the washcloth, shoulders back, head high, follow him along the street, past ppl parking their cars, standing in line with their families. People say things, point. I cannot hear them. I am transcendent with shame. Untouchable.

Reception is BUSY. So busy he has to yell at ppl to make way so I can get through the crowd. The guy explains (I'm guessing) the situ to the receptionist. This takes actual minutes. An old lady gives me her pool float. It is shaped like a lobster. The claws rest on my boobs. [sic]
The receptionist even had the nerve to ask for identification, as Anbara stood there covering herself with a tiny towel and lobster. Fortunately, despite a sigh, she was allowed through the turnstile.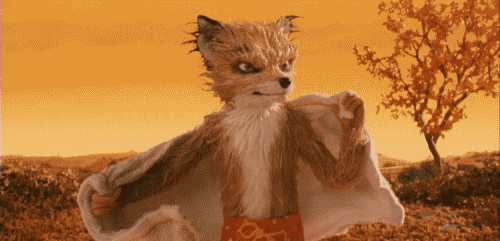 Fantastic Mr Fox Gif
20th Century Studios
Soon, the onslaught of mishaps was over – not until one last, little jab. '10 minutes later when I run sobbing into a towel and find my bf in the café he has the AUDACITY to be grumpy because he's been waiting for an hour,' she added.
First Chandler sitting on Jack Geller's lap, and now this – I think I'll be giving saunas a miss.